Life is so funny. As teens we do everything in our powers to fit in. We want to blend in with the crowd. Then it happens…
We grow up.
Then we do everything in our powers to stand out. We want to be unordinary. Why? Because now being ordinary isn't cool. It's boring!
So today I am on a mission to find some fashion items that are not so ordinary.
Those conversation pieces we all need to have at least one of in our closets.
Things that you wear and you're almost guaranteed someone will ask…"hey, where did you get that from?"
photo credit:
WETV
Speaking of convo pieces. I just had to mention the fab sock dress from Braxton Family Values. When I first heard that Michael Costello was creating a dress made of socks. My first thought was "This is going to be hideous…" To my surprise, and I'm sure thousands of other viewers, the dress was gorg!
Cat Tights.
photo credit: Incrediblethings.com

Cat love has reached a new level. We're all used to seeing that cat sweater our Great Aunt Mabel wore all the time – eventhough she did not own a cat. Or even the cat-themed scrubs that our childhood dentist's assistant wore on Tuesdays. But cat tights! Truly for the cat lover within. These tights are very unique. Great for Halloween, costume parties, or when you're feeling "catty".
Gypsy Boots.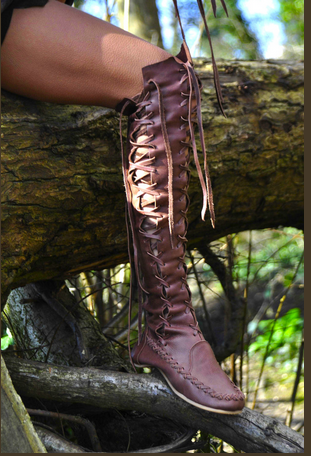 Someone once told me, boots are boots. Obviously someone who knew nothing about the art of boots. Ankle boots, midcalf boots, wedge boots, cowboy boots, fringed boots…come on, don't challenge me. But gypsy boots were new to me. These are handmade leather boots that are laced to the heavens. They look super comfortable and these boots are definitely attention-getters. Besides that, they are sexxxxy. Good for adding some "sass" juice to an everyday outfit. Pair with a short skirt or short jean shorts and a tank top.
Fast Food Swimsuit.
photo credit: topshop.com
Now this is one you would need to sign and save to show your grandkids. Because they would never (ever) believe this in a million years. Who'd ever believe it was trendy in your day and time to wear a hot dog tube top with french fried bikini bottoms. I wouldn't! Topshop was able to create the ultimate eyepiece for the beach. Increased cravings to those around you — included.
The following two tabs change content below.
Beauty and style lover with an addiction to wigs, puppies, french toast and neon polish. Hundreds of reviews under my belt and new ones added weekly. Be sure to swing by often.
Latest posts by GirlRatesWorld (see all)