Welcome to this month's What's What In Beauty and Fashion. We have some good stuff to cover in this edition – Rimmel, Rita Ora, Barbie, Bathina, Hair Extensions and more! So come on. Let's just jump into the latest headlines in the beauty and fashion world. [powerpress]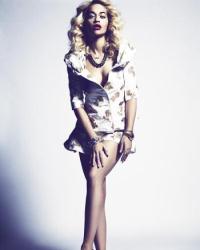 Rimmel and Rita!
Collabo-alert! Rimmel London is partnering with Rita Ora on a capsule color collection. Rita and Rimmel will create new (and exciting) lip and nail shades. Unfortunately the new shades won't be available until February 2014. The good news? It will be available just in time for Valentines Day! Can't wait to see what the pair comes up with. Rita is an emerging fashion icon with a fashion footprint similar to Rihanna.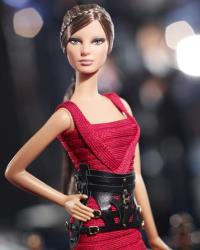 be barbi-ful
You're never to "old" to play dress-up with Barbie!  Hervé Léger in conjunction with Max Azria are teaming up with da BARBs. As early as mid-October, expect to see this high-fashion edition of Barbie at Neiman Marcus stores nationwide. Barbie will be sporting a scarlet bandage dress, accented with a black corset harness belt, black gladiator boots and a signature black and gold clutch – "How you doing?!?!" (in my Wendy Williams voice). The outfit will be made from authentic Hervé Léger by Max Azria apparel and priced at $150. Wanna know the bestest part? Her entire outfit – including accessories – will also be available in life-size. Expect to see this unit on Storage Wars 10 years from now where it will most likely be worth 3 to 4 times its worth in fabulous-ness.
I know. I know. Dressing up like Barbie may be a bit much for most. But staying up on Barbie's keen fashion sense, now that's something most of us can strive for. Staying in "the-know" is usually a google search and a click away. Check out sites like Redbook or even GRW. These sites are filled with a wealth of information when it comes to the latest in fashion trends, fashion tips and more (so much more).
keysia gets 'soled'
Speaking of collaborations with a songstress, the "godfather of soles" and Keyshia Cole have given birth to a collection of urban-chic, street-fashion footwear. The collection features pumps and boots layered with laces, straps, buckles, metallic finishes and even graffiti.
bathina by benefit
Benefit Cosmetics has a new, lightweight body oil. Bathina is super hydrating with a touch of sheen and a hint of fragrance. The oil is a blend of almond oil, olive oil, avocado oil and vitamin E. Hmmm…sounds very nutritious.
short 'n lacey
I've mentioned these one-of-a-kind lace up boots here before. Now, these gypsy-inspired women's leather boots are available in a shorter length. What I love about these boots – besides their uniqueness – is how casual (and comfortable) they are. Boots are handmade and guaranteed to get attention every time you wear them.
push button hair extensions
Yup. You read that right. Just when you think the vending industry can't get any clever – hair extension vending machines. Hey. You never know when you will need an emergency clip-in (I guess). These machines will be placed in nail salons nationwide starting with a couple of salons in Virginia. I gotta say – getting a pack of M&Ms stuck in the vending machine is horrible enough. I can't imagine that happening with extensions. I predict a huge number of vandalized machines if it does. I'm just saying (#IJS).
polish for prevention
Orly will release their Pretty in Pink collection to support Breast Cancer Awareness Month. It will debut three different textures in glitter shades: Fight On, Pink Your World and You Are Not Alone (from dark to light). 20% of earnings will be donated to the Cancer Sehmaneer Movement. The collection will be available for purchase in October.
wrinkle warfare
We mentioned 321skincare.com in today's podcast. It's home to anti-aging skin care line, Nerium. Since 2011, Nerium has been harnessing the unique properties of the Nerium Oleander plant to produce truly revolutionized anti-aging products. The line has dedicated itself to providing top quality skin care products backed by scientific research with exceptional results. It has been featured on The View and comes with a 30-day money back guarantee.
What were your favorite moments this month in beauty and fashion? What are you looking forward to next month? Be sure to let me know in the comments below.
The following two tabs change content below.
Beauty and style lover with an addiction to wigs, puppies, french toast and neon polish. Hundreds of reviews under my belt and new ones added weekly. Be sure to swing by often.
Latest posts by GirlRatesWorld (see all)